Welcome to Dunlop Kirk
Our Morning Service is in the church every Sunday morning at 11.30am.
All are welcome!
If you feel at all unwell, please stay at home.
Our Services of Worship are recorded and can be viewed here
Services are live on our YouTube channel
and Services are live on Facebook.
On Sunday the 1st May we had a wonderful service at which our Minister had the pleasure and privilege of presenting
Long Service Certificates
to those who've served in a range of different ways - as members of Kirk Session and Congregational Board;
as responsible for teaching and superintendence of Sunday School;
as ensuring that birthdays and other significant events are marked with a card,
and for the display of flowers in the church which are later given to others.
After our service, we enjoyed a very sociable and tasty soup and scone lunch in the Village Hall.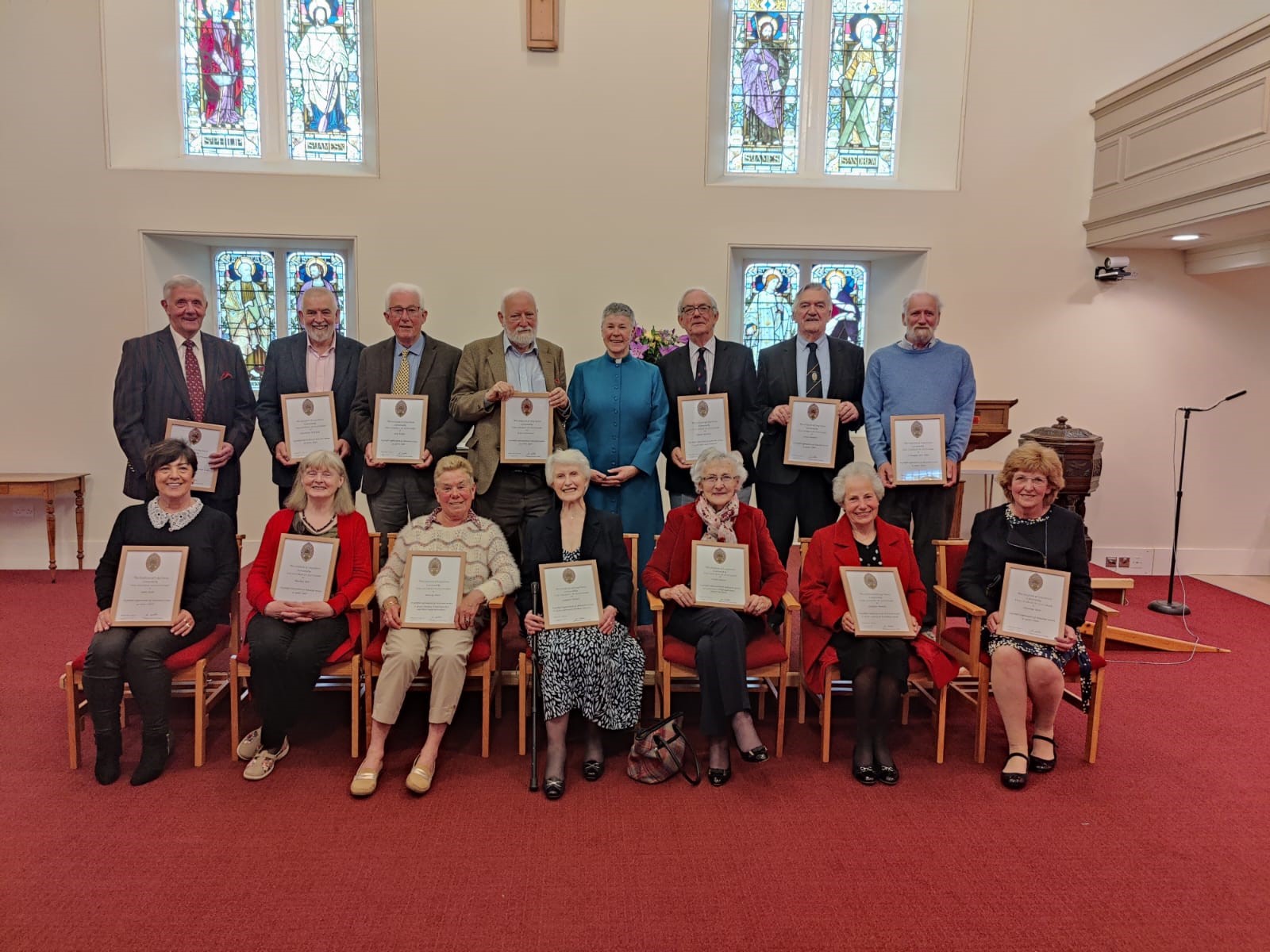 Watch Dunlop Kirk Worship Sunday 1st May 2022 - & presentation of Long Service certificates
Services can be listened to by calling 01505 805500 (local call rate)

If you would like to be part of our Zoom Church congregation the Zoom service on
Sunday 26 June 2022 will start at 11.10.

We'll start with about 15 minutes of welcome and chat, before watching the online Service then more time for chat afterwards.
Let me know if you'd like to join us, and I'll email you the link. It is also possible to Zoom by telephone,
so if you know anyone who'd like to join that way, then let them, and me, know.

The link to our Youtube Channel should appear on our Church Facebook page on Sunday morning.

If you don't use Facebook, you should be able to access the service by clicking on this link to Dunlop Kirk's YouTube Channel.
Dunlop Church of Scotland - YouTube Channel
Please contact Rev Alison McBrier or Session Clerk, Margo McMurdo (contact page), if you have any questions.
Dunlop and Caldwell, Exploring the Bible, Tuesdays 10.30am via Zoom.
If you want any information on the above or would like to join our email information list,
please email Alison or Margo on contact@dunlopkirk.org.uk
Please note the Village Hall will be open for morning coffee on Tuesdays at 10am - 11.30am.
If possible, please do a lateral flow test before you come along and, if you feel at all unwell, stay at home.

Our Stated Annual Meeting has been postponed - new date to be confirmed.

Donations and givings

If you would like to make a donation to Dunlop Kirk,
you can do so by clicking on this link

Donate to Church of Scotland - Dunlop.

We are most appreciative of all the support we receive from members and friends of our congregation and parish,
especially at this very difficult time.
Dunlop is a small, friendly village in rural Ayrshire.
We in Dunlop Parish Church of Scotland feel that our church is at the heart of the community.
We have a long and proud history of loving and serving the people of our parish, which also includes the communities of Burnhouse, Lugton, Newmill and the Halket.

Continue to pray - for our communities - people of all ages.
For all those whose lives and occupations are disrupted, and who are struggling with financial uncertainty.
For those who are working to maintain supply chains, and essential services. For our civic and religious leaders.
For all those who work in healthcare - in whatever capacity.
For researchers and scientists who are continuing to create treatments and vaccines.

Keep caring for each other, as I know you are.
Please pass on my words here to anyone you know is not on-line.
Peace, and hope, and love be with you all,
Alison

Rev Alison McBrier,
Minister.
Caldwell and Dunlop Parish Churches