Dunlop Parish Church
Church News
Sunday 23rd December 2018

Minister: Rev. Alison McBrier MA, BD – Tel: 01560 673686
Scottish Charity No: 000447
'Give thanks to the Lord, because He is good

'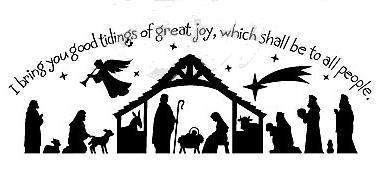 Morning Worship: Fourth Sunday in Advent - Nativity 'The Well Good News of Christmas'
Praise: One Red Candle, 320 Nativity 306, 315, 304, 310, MP 740
We are pleased to be baptising Isabel Frances Thomas Miller and Aiden Alistair Sinclair Howden this morning.
A warm welcome to family and friends.
You are warmly invited to join us for tea or coffee in the servery area of the church after the service.
Christmas Appeal East Ayrshire Churches Homelessness Action: the last two Sundays we delivered two car loads of beautifully wrapped Christmas gifts, bags of food and cash donations of £255.
Janice Grant, EACHa organiser was delighted as the cash donations from Dunlop paid for 86 temporary accommodation food parcels!
Over 1500 gifts from East Ayrshire Churches will be distributed in time for Christmas.
We appreciate the support this appeal always receives from the congregation and the wider community.
There will be no Wednesday Evening Worship in January - Evening Services will resume on the first Wednesday in February 2019.
Special edition Christmas Cards
featuring two of Dunlop Kirk's Stained Glass Windows :
The Bell Tower window and The Resurrection window
Both windows were designed by the famous stained glass artist, Gordon Webster.
The cards cost £2 each or £5 for a set of three
(They are also available blank for your own message)
Stained Glass Booklet
The booklet makes a delightful present, easily wrapped and easily posted.
£5 per copy. Available at the Church or by phoning 01560 484846
One Red Candle by Ruth Burgess
(Tune: Frère Jacques)
Each line of this song is repeated.
1. One red candle
Burning slow
Advent weeks of waiting
Three to go
Mary's waiting
Joseph too
Waiting for the baby
Coming soon
2. Two red candles
Burning slow
Advent weeks of waiting
Two to go
Wise men watching
For a star
Going on a journey
In the dark
3. Three red candles
Burning slow
Advent weeks of waiting
One to go
Shepherds listening
In the night
Will they hear the angels
Sing tonight?
4. Four red candles
Burning slow
Soon it will be Christmas
Not long now.
We are waiting
Watching too
Soon it will be Christmas
For me and you

Dunlop Kirk – Christmas Services and Events
All warmly welcomed

Sunday - 23 Dec 11.30am - Fourth Sunday in advent Nativity Play.
Christmas Eve: 24 Dec 11.15pm - Watchnight Service in the church.
Carols from 11.15pm; service at 11.30pm
Christmas Day 25 Dec 10.45am – short Family Service in the church.
(Please note this service is earlier than usual)
Sunday – 30 December at 11.30am - worship in the church