Dunlop Parish Church
Church News
Sunday 5th May 2019

Minister: Rev. Alison McBrier MA, BD – Tel: 01560 673686
Scottish Charity No: 000447
'Give thanks to the Lord, because He is good

'
Morning Worship


'BACK to where it all began!'
Praise: 413, 340, 363, 532, 681
Readings: Isaiah 61 : 1 - 3, Gospel of St. John 21: 1 - 19


A warm welcome to Rev. Donald Campbell who has kindly agreed to help us during Alison's absence.
You are warmly invited to join us for tea or coffee in the servery area of the church after the service.

Christian Aid 2019 - lots going on!
The Big Breakfast raised £901.40. Thanks to all who helped and attended.
Don't forget our envelope appeal.
Quiz sheets available in Church today.
Both have to be returned by 18th May.
The Christian Aid Wednesday Coffee Morning will be held on Wednesday, 15th May in the Church Hall 10 – 11.30. We would be grateful for donations of baking and raffle prizes for Christian Aid. Please come and join us.


'Exploring the Bible' a joint Dunlop/Caldwell group will meet on Tuesday, 7th May, Caldwell vestry at 10.30. All welcome.

The Dunlop Alzheimer's Circle of Friends are having a day away this Thursday, 9th May - going to Dumfries House to view the lovely gardens.
Then on to Dobbies for afternoon tea. Price for visitors £15. Leaving Dunlop school at 11am and returning ~4pm.
There are a few seats available. Contact Susan Shorrock 482109 or Christine 483491

Guild Rally, Monday 13th May, 7.30pm Darvel Parish Church. Those wishing to go speak to Marilyn Bell 482966.

CREAM TEA Dunlop Friends of the Ayrshire hospice would like to invite you to their Annual Cream Tea in aid of the Ayrshire Hospice on Sunday 12th May 2019 between 2.00p.m. and 4.00p.m. at Struthers. Tickets are available from any committee member or just pay at the door.
As usual there will be fantastic scones on offer with a raffle, home baking stall and plants to brighten up your garden for sale. We do hope that you will be able to come along.


Events committee presents this Thursday evening at 7.30pm: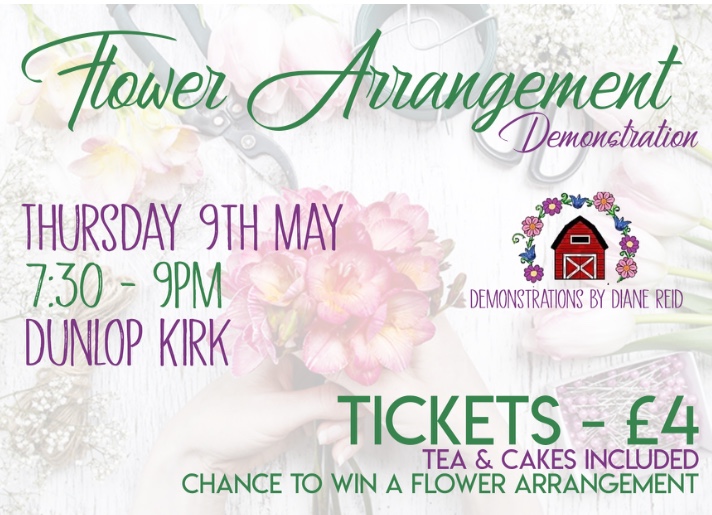 Dunlop Church - Open Sunday Afternoons starts again TODAY 5th May 2018
As in previous years, Dunlop Kirk will be open from 2pm to 4pm every Sunday until the end of October.
If you would like to spend some time in the Church to take a closer look at the beautiful stained glass windows, perhaps visit the "A" listed Clandeboyes Hall (built in 1641 and one of the first free schools in Scotland) or just to enjoy spending time in a peaceful building then please come along.
If you are out for a walk, why not drop by.
All visitors will be very welcome and, as always in Dunlop, tea, coffee and biscuits will be available.